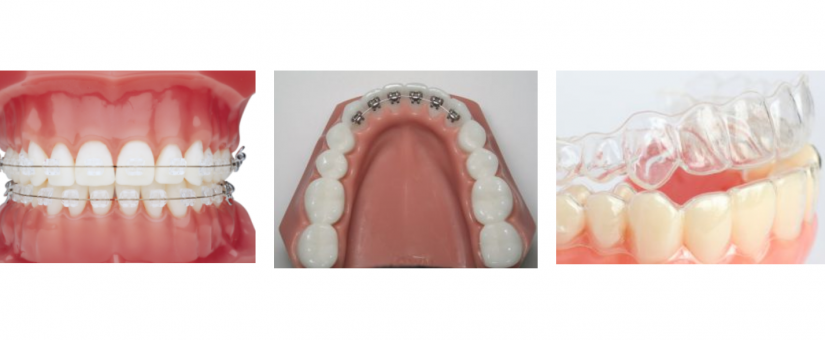 Orthodontics has come a long way since its inception. Some of you may remember the days when a metal band had to be fabricated and placed around each individual tooth. Those days are long gone! Advances in science and bonding techniques have allowed braces to be placed only on the front of the teeth and on a much smaller scale.

The field of Orthodontics has continued to advance and improve and has become a leader in the aesthetic market. We are constantly surrounded by models and pictures in the magazines of beautiful people with straight teeth. Now, we have some wonderful options to achieve that gorgeous grin in a less noticeable way: clear braces, lingual (inside) braces, and Invisalign (clear aligners).

The clear braces today are designed to blend seamlessly with the natural color of your teeth. They are a great alternative to traditional metal braces and will help you to achieve beautiful results. This is the most commonly sought out form of Orthodontic treatment.
Braces can also be placed on the inside of the teeth — these are called "lingual braces." They are totally invisible from the front! Many people are unaware of this option as it is not offered by every Orthodontist. Lingual braces are a wonderful option for those who seek out straight teeth but cannot integrate regular braces into their lifestyle.
Finally, Invisalign (a clear aligner system) is another great way to straighten your teeth. Invisalign treatment is performed with a series of clear "aligner" trays. Each set of trays has a specific amount of tooth movement programmed into it. Your orthodontist will individually customize your unique Invisalign treatment plan through an interactive 3-D platform, applying all of the same Orthodontic principles used to move teeth with braces. As you move through your series of trays under the guidance of your Orthodontist, the teeth will progressively become straight until the desired result is achieved. This is great for those who prefer the convenience of being able to take out the appliance when eating and brushing your teeth. It is a purely compliance based system, so dedication to wearing the trays as prescribed is a must!
As an Orthodontist, I am extremely excited about the more recent advances in the field and see more and more adult patients coming back for treatment. The kids and teens are also loving it! With so many great aesthetic options, we can definitely find the one that is right for you or your child.
Check out my recent interview with Dave Aizer on Inside South Florida to learn more about the aesthetic advances in Orthodontics today!
All the best,
Dr. Pam